The Asian Bankers Association (ABA) and Oberthur Cash Protection (OCP) jointly organized a webinar on "IBNS, a new way to protect cash from ATM physical attacks"  held on March 3, 2021.
With more than 500 registered participants from all over Asia and beyond, the webinar introduced the Intelligent Banknote Neutralization System (IBNS) as an effective way to protect ATMs from physical attacks. It was moderated by Mr. Patrice Rullier, OCP Managing Director, and featured as speakers Mr. Paul Nicholls, OCP Business Development Director; Mr Eric Hauw, OCP Sales & Marketing Director; and Ms. Ee Ling OOI, OCP Business Development Manager APAC.
The speakers elaborated on the features of IBNS, the Central Bank regulations affecting the use of IBNS, the certification of IBNS' solutions, and the ATM attacks that are happening across Asia.
Key Takeaways
(1) Mr Paul Nicholls introduced IBNS as an innovative security solution  to combat crime.
IBNS reduces the value of the note by indelibly marking it as a stolen.
ATM IBNS solution compares between active and passive solutions.
The active IBNS solution is an effective deterrent against all types of ATM physical attacks.
Europol's answer to ATM crime is to "spoil the loot" by staining the notes and using taggants/infra-red markers to help catching the criminals.
There is evidence that IBNS works because ATM physical attacks have reduced drastically whenever IBNS systems are installed.
(2) Eric Hauw discussed Central Banks Regulations, Standards, and Certifications to implement IBNS.
Central Banks play a role in the implementation of IBNS regulations.
Communication is key to creating public awareness.
Central Bank and Ministry of Interior play a technical role in defining IBNS' technical standards.
The characteristics of the unique ink: indelible, traceable, capable of covering 100% of all the notes and 20% of their surface, compatible with polymer and paper banknotes.
Central Bank regulations can help re-inforce IBNS' deterrence but it is not mandatory.
The importance of deploying systems that have met French certification requirements – 100% of notes covered by a minimum of 20% of their surface when activated as a result of a physical attack.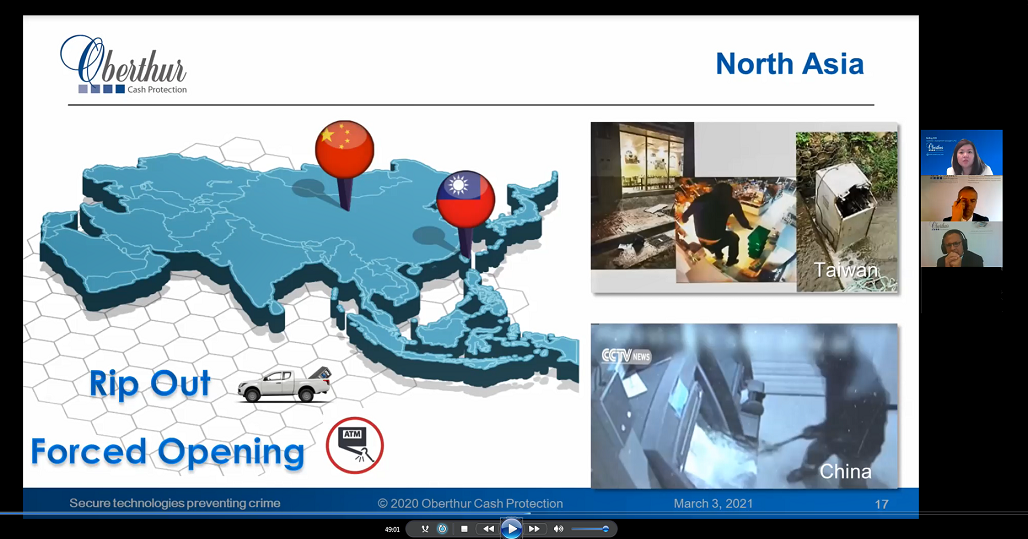 (3) Ee Ling OOI discussed a series of physical ATM attacks in APAC.
Different types of ATM physical attacks include ram raid, explosive, pull out, torch, and grinder, among others.
Typical ATM attacks are happening in different regions in Asia-Pacific (North Asia, South Asia, South East Asia, Australasia.)
Stained notes are considered as stolen notes, thus criminals do not consider further attacks because it is not worth the risk.
Banks are highly recommended to collaborate with the Central Banks to have the IBNS regulation implemented, to allow ink staining system to be installed in locations of high risk to prevent ATM attacks from happening.
Webinar's video and presentation files:
The Powerpoint presentation of the webinar can be downloaded HERE.
The complete video recording of the webinar can be viewed at the ABA Youtube channel.
Other related information:
Oberthur Corporate video: https://www.youtube.com/watch?v=bE48DYS4TIQ
ATM Physical Attacks (Breaking News): https://youtu.be/us82flI74Pk
IBNS whitepaper: https://176.162.136.129/index.php/s/ZXB4tX19w9msJJ4
OCP brochure: https://176.162.136.129/index.php/s/GcWueSpHdjhSZrS
For further information about Oberthur Cash Protection, please contact Ms. Ee Ling OOI, Business Development Manager, Mobile: +33 (0) 6 35 40 31 93, e.ooi@oberthurcp.com