RCBC's Rizal Microbank conducts ABA Microfinance Appreciation Course
The Rizal Commercial Banking Corporation (RCBC) and Rizal Microbank, the microfinance arm of RCBC, successfully conducted a two-day ABA Microfinance Appreciation Course on June 22-23, 2015 in Makati, Philippines. The program was attended by bankers from Bhutan, Iran, Sri Lanka, Thailand and Vietnam.
Day One: Full-day Lectures and Presentations
Mr. John Thomas G. Deveras, Executive Vice President for Strategic Initiatives of RCBC, warmly welcomed the participants on Day 1 of the program. In his opening remarks, Mr. Deveras shared that the number of the unbanked in a certain country can determine a bank's potential to venture into microfinance. In the case of the Philippines, he said that 40% to 70% of the population – or 40 million to 70 million people – are classified as unbanked, representing a potentially huge market for microfinance. He also spoke of different methods to tackle the unbanked, such as enrolling them in the banking system through the bank's products and services. Mr. Deveras said that in the end, the success of microfinance lies in the execution of the strategy which involves studying the market's culture and application of the right technology.
Rizal Microbank President Ms. Maria Lourdes Pineda and First Vice President Mr. Raymundo Roxas led the lecture part of the workshop. Ms. Pineda imparted her expertise on microfinance and gave a talk on Micro 101. She introduced the basics of microfinance to the participants, defining it as providing financial products and services to low-income levels or to the so-called basic sector. She outlined the characteristics of the microentrepreneurs. She talked about establishing indicators to evaluate the performance of microfinance institutions, and gave a brief background on RCBC's foray into microfinance to serve the "bottom of the pyramid."
Mr. Roxas, on the other hand, shared his knowledge on credit underwriting approaches used by lending institutions and discussed why cash flow-based lending is practiced in microfinance. Mr. Roxas noted that a bank looks at the viability of the project for loan applications.
A client's character or his willingness to pay, as well as his capacity or ability of his business and household to generate surplus for loan repayment, serve as the core basis of loan evaluation, added Mr. Roxas.
The lecture was highly interactive with participants raising questions on the host bank's microfinance programs and regulations, turning it into a venue for the speakers and participating banks to exchange ideas, share effective banking practices, and consultation on how to establish a strong microfinance arm.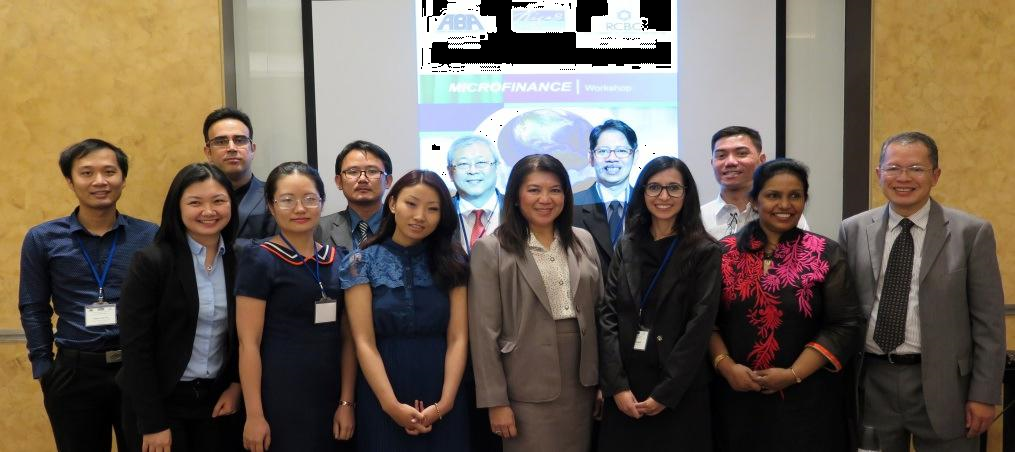 Participants pose with the speakers and ABA officers at the end of Day 1.
Day Two: Field Exposure Visit
Participants went on a field exposure visit to Rizal Microbank's Luzon Area Office located in Tanuan City, Batangas, south of Manila, on Day 2 of the program.
Ms. Hazel Velasco, Assistant Vice President and Luzon Area Head gave a briefing of the bank's operation in Southern Luzon and introduced the Rizal Microbank clients to be visited by the participants.
Ms. Lily Castillo, Branch Manager of Rizal Microbank Tanauan, together with other Rizal Microbank and RCBC officers, accompanied the delegates to visit the following clients and their respective businesses:
Norania Mira-Ato– Cellphone Shop & General Merchandise;
Adoracion Millarez– Direct Selling;
Anita Millarez– Annie's Catering; and
Francis Manset- Echo Music, School of Music.
The field exposure visit allowed participants to experience first-hand how microfinance provides assistance at the grassroots and gave them an opportunity to mingle with Rizal Microbank clients and business owners.
Courtesy Visit to Tanauan City Town Mayor
The workshop participants also paid a courtesy visit to Tanauan City Mayor Antonio C. Halili. Ms. Pineda explained to Mayor Halili that the visitors were bankers from five Asian countries attending the Microfinance Appreciation Course conducted by RCBC and Rizal Microbank, and that they were visiting Tanauan City to meet the microfinance clients of Rizal Microbank. Mayor Halili welcomed the participants to the Philippines and thanked them for visiting his municipality. He expressed his hopes that the bankers would find their visit to the city fruitful and informative.
The Microfinance Appreciation Course hosted by RCBC and its microfinance arm Rizal Microbank is part of the ABA Short Term Visiting Program, a project of ABA which aims to provide member banks the opportunity to study and undergo training on specific aspects of the operations of the more advanced host banks. It aims to enable visitors to enhance their technical skills and knowledge in specific areas such as international banking, treasury activities, investment, and foreign exchange in the distinct social, economic, and business environment of the host country.
The participants in this short term visiting program include:
Bank of Bhutan:
Ms. Upahar Subedi, Head, Planning and Monitoring Unit; Ms. Lhakey C Tshering, Operations Officer; Mr. Tashi Tenzin, Credit Officer.
Bank Pasargad, Iran
Mr. Hossein Abbasi Arjin, Expert of Credit, Credit Dept;
National Development Bank Sri Lanka,
Ms. Delrene Seneviratne, Assistant Vice President, Network Management
Bangkok Bank:
Mr. Than Siripokee, Executive Vice President
Mr. Kosid Suwankeeree, Vice President, Portfolio Management Unit;
Bank for Foreign Trade of Vietnam (Vietcombank)
Ms. Le Hanh Hoa, Officer, Retail Banking Department
Mr. Pham Anh Tu, Officer, Credit Policy Department
ABA Secretariat
Mr. Amador Honrado, Deputy Secretary
Ms. Jacqueline Dy Uy, Senior Officer
Microfinance Promotion: Part of ABA's Policy Advocacy Work
Promotion of microfinance is currently an important part of ABA's policy advocacy work. The ABA recognizes that the microfinance industry globally has achieved significant milestones, increasing access to financial services for people at the bottom of the pyramid.
In particular, the progress and growth of the industry in Asia has been unprecedented. Over the years, the industry has evolved to include the diversity of stakeholders from NGOs, small and medium microfinance institutions, large-scale microfinance institutions, finance companies, development banks, and commercial banks, with varied development approaches, delivery methods, products and services to broaden the scope to reach and empower low-income people.
It is in this context that the ABA has decided to identify and implement programs that would encourage the banking sector to take advantage of emerging opportunities in microfinance and assume greater involvement in the financial inclusion landscape. One such program is the holding of the Microfinance workshop, whose primary objective is to provide its member banks, particularly those who are interested to engage in microfinance as a business initiative, the opportunity to learn from the experience, best practices, and expertise of RCBC and Rizal Microbank, which are already successfully engaged in microfinance operations. .
Through the workshop, the ABA hopes to provide another valuable opportunity for its members to exchange views and share experiences on microfinance as one business activity that its members can engage in, in order to sustain and grow their banking operations.