The Asian Bankers Association (ABA) and the Association of Credit Rating Agencies in Asia (ACRAA) wish to invite fellow bank members, investors and associates to join the 90-minute webinar on "A storm ahead?An updated view on the Asian economy" to be held on 13 October, 2022 at 02:00 PM, Taipei time.
The webinar will feature Atsushi Masuda, ACRAA Chairman & Counselor for International Affairs, Japan Credit Rating Agency Ltd. (JCR) and Lina Wang, Senior Analyst of  Sovereign Rating, China Chengxin International Credit Rating Co. (CCXI).  Lin Zhang, Assistant Director of Research Institute, CCXI will join the Q&A session.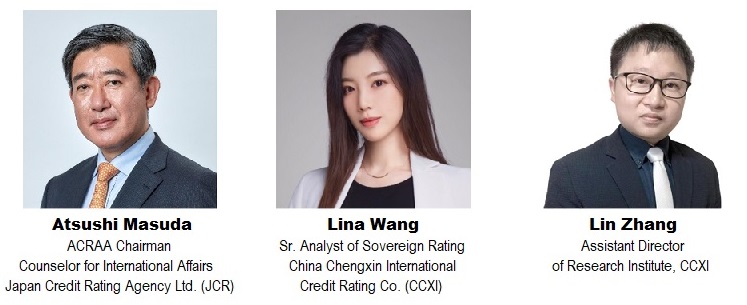 The topics to be discussed are explained as follows:
I. Four questions on the possible scenario for the global economy by Atsushi Masuda (45 minutes)
This session will take up the following four questions on the possible scenario for the global economy;
(1) Is the Great Moderation over?
(2) Will recession come?
(3) Will inflation stay?
(4) Will default rate mount?
The presentation will focus upon the Asia region excluding PRC in the context of recent developments in the global economy. At this moment, inflation pressure is growing beyond "temporary" but still it is projected to stabilize once geo-political factors and outright US Dollar appreciation will be corrected. It may be safe to think the Great Moderation ends really this time in view of revived inflation and higher volatilities in the markets. Fear of recession has been also surfacing in view of possible further tightening on gas supply from Russia and concerted monetary tightening worldwide, but the argument of similarity to the 2007 situation is not valid at this moment.
II. The recovery of China's economy – Steering through turbulent waters by Lina Wang (25 minutes)
The speech will focus on the recovery of China's economy amid multiple external and internal challenges. The speech will go through the fundamentals and outlook of China's macroeconomy with key economic components and supporting data. Looking ahead, China's economy will rebound in the second half of 2022 while downside risks persist. The policy space of China may be restrictive with tightening monetary and financial conditions globally. The evolution of coronavirus infections will remain an important risk. Meanwhile, China continues to face policy challenges to balance long-term policy goals with growth targets. Restoring confidence and spurring vitality of market entities is key to adding growth momentum.
III. Q&A session (20 minutes)
Audience will be able to issue questions to the speakers.
We therefore encourage you and your colleagues to register for this webinar by clicking HERE.